Active (M.D., D.O., M.B.B.S.) - $270 USD
Associate (Physicians or scientists not engaged in administering clinical anesthesia, CRNA, AA) - $220 USD
Retired Physicians - $65 USD
Fellows - Complimentary
Residents - Complimentary
Medical Students - Complimentary
---
SOAP Members Save on Professional Journals
International Journal of Obstetric Anesthesia - $120 USD (a savings of $300)
Obstetric Anesthesia Digest - $80 U.S. rate or $90 international (a savings of $400+); One-year free for Fellows (complete this form)
Subscriptions run through 12/31 annually
---
SOAP Members Save on IARS Membership
As a member of SOAP, you can save $20 off a membership with the IARS, including Anesthesia & Analgesia, SOAP's official journal. You will be provided with the appropriate discount code below when you join SOAP.
IARS Full Membership = $195/year, includes full members and print and online journal access
IARS Limited Plus Membership = $135/year, includes print and online journal access only
IARS Limited Membership = $75/year, includes online journal access only
Subscriptions and memberships run through 12/31 annually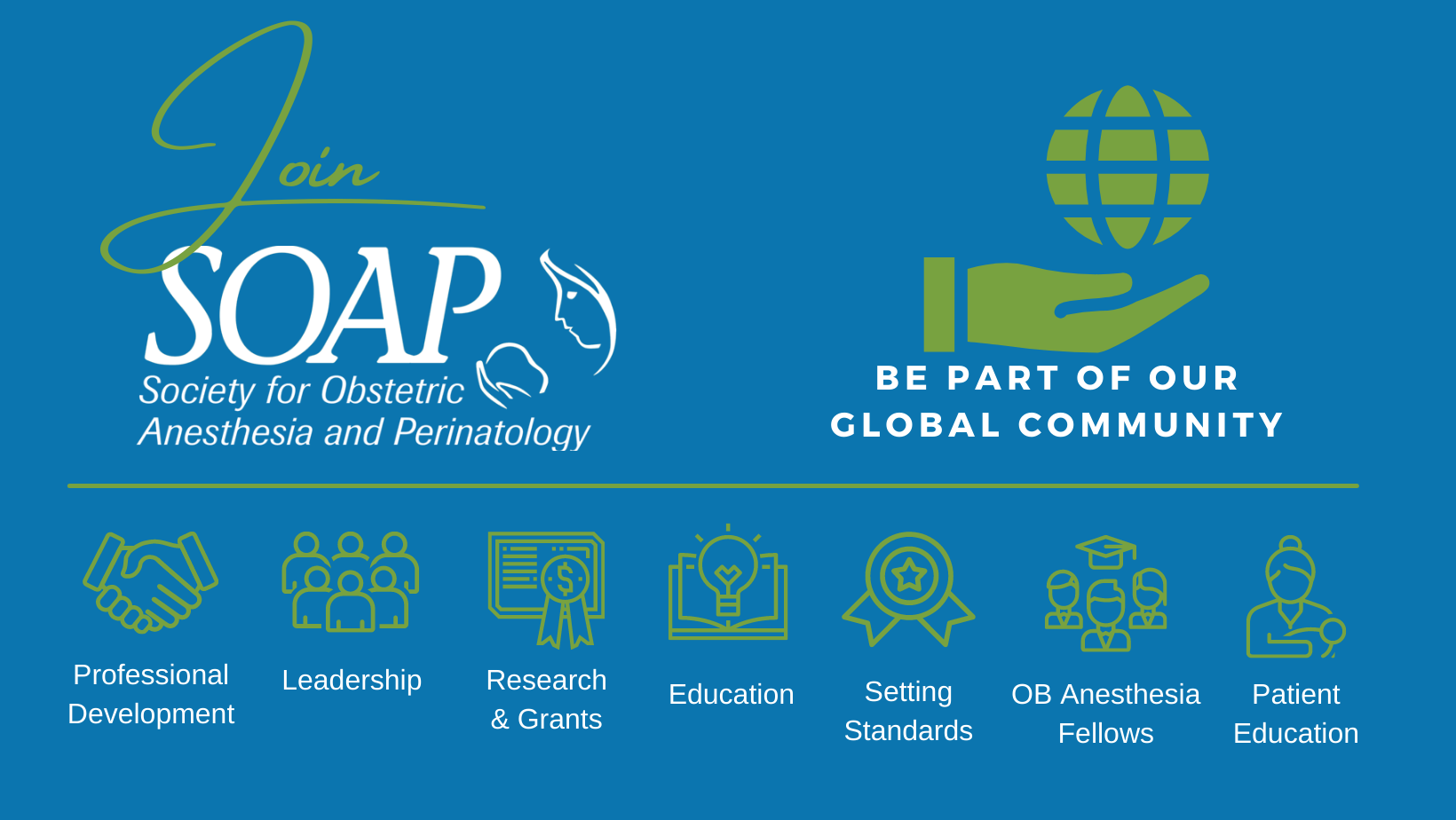 Why Join our Global Community?
SOAP membership will benefit you and your practice in numerous ways:
Enhances your network of regional, national and international professional colleagues
Provides the opportunity to learn new skills, techniques, and methods to improve the care and safety of pregnant women and their fetuses
Offers opportunities for professional development and leadership
Allows access to previous meeting publications, files, and supplements
Gives a forum to evaluate and discuss the latest research, education, and clinical practices in the specialties of obstetric anesthesia, obstetrics, and perinatology

Affords CME opportunities and reduced registration fees for SOAP Annual Meetings and virtual events

CME credits earned are supplied to the ABA (ABA# must be provided upon registration)

Enables access to significant research grants and research mentorship

Connects you to other individuals that share similar issues in their practices for advice and counsel

Provides access to American College of Obstetricians and Gynecologists documents of interest to OB anesthesia

Provides discounted membership for the International Anesthesia Research Society, including subscription to Anesthesia & Analgesia (the official journal of SOAP) and event discounts
Provides discounted journal subscription rates to Obstetric Anesthesia Digest and International Journal of Obstetric Anesthesia
Provides discounted registration rates for meetings of the Obstetric Anaesthesia Association (UK)