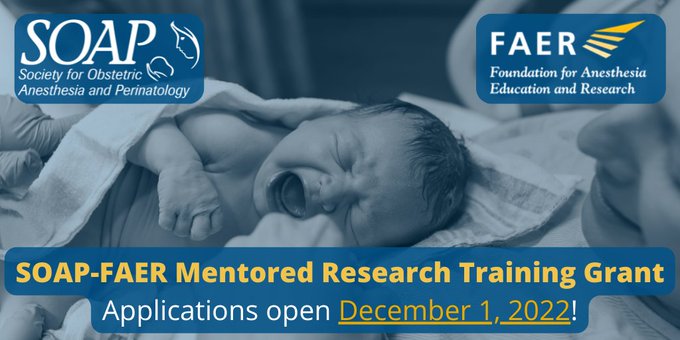 APPLICATIONS NOW OPEN!


SOAP-FAER Mentored Research Training Grant

The Society for Obstetric Anesthesia and Perinatology is excited to be partnering with the Foundation for Anesthesia Education and Research on a joint SOAP-FAER Mentored Research Training Grant (MRTG) to develop the next generation of obstetric anesthesiology and perinatology physician-investigators.

This two-year, $250,000 award aims to help anesthesiologists develop the skills and preliminary data they need to become independent investigators in the area of obstetric anesthesiology and perinatology.

Research Areas: All areas of research that contribute to knowledge about and advance and advocate for the health of pregnant women and their babies through research, education, and best practices in obstetric anesthesia care.

Eligibility: Anesthesiologist faculty member who is within 10 years of their first faculty appointment.

Funding Amount and Duration: $250,000 over two years

Research Time: 75%

Applications Open: December 1, 2022

Application Deadline: February 15, 2023


Application and instructions for the SOAP-FAER MRTG are available on the FAER site. 

If you have any questions, please contact the FAER office at 630.912.2554 or [email protected].
---
How Can You Help?
You can support our work to promote excellence in obstetric anesthesia research through a donation to the SOAP Endowment Fund, which funds the SOAP-FAER MRTG. The SOAP Endowment Fund is a 501(c)(3) public charity eligible to receive tax-deductible gifts. Our tax ID is 71-064966. Contributions are tax-deductible to the fullest extent allowed by law.