SOAP Annual Meetings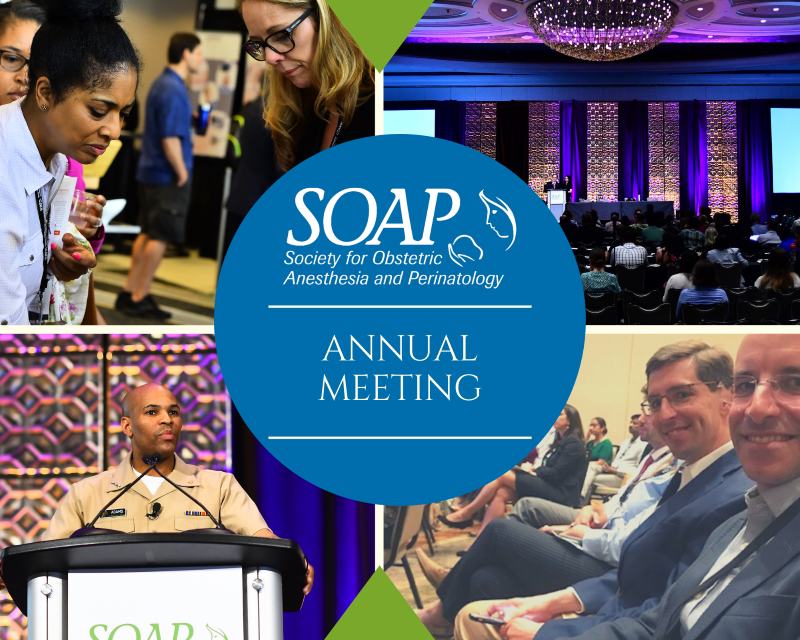 53rd Annual Meeting, a Virtual Event
May 13-16, 2021
#SOAPAM2021
54th Annual Meeting
Hilton Chicago Hotel
Chicago, Illinois
May 11-15, 2022
55th Annual Meeting
Sheraton New Orleans Hotel
New Orleans, La.
May 3-7, 2023
Register now for the 53rd Annual Meeting, to be held virtually May 13-16, 2021. Plans are underway for the 2021 Annual Meeting as a global, virtual event open to members and nonmembers. The educational and speaker program will include the traditional offerings our members look forward to, along with a few unique twists. As always, our program will feature the high level of quality you expect from a SOAP event.
About the SOAP Annual Meeting
The SOAP Annual Meeting, which attracts more than 800 participants, is recognized for its dynamic program, quality research presentations, and information on the latest advances in the practice of obstetric anesthesia. The information presented, and collaborative environment provided, enhances attendees' ability to care for patients and develop their practices. The CME approved educational program attracts thought leaders in obstetric anesthesia.
The Annual Meeting is intended for anesthesiologists, obstetricians, neonatologists, obstetric medicine specialists, maternal-fetal medicine specialists, residents, fellows, medical students, Certified Registered Nurse Anesthetists (CRNA) and Certified Anesthesiologist Assistants (CAA). The Society supports attendance by associate members in the educational sessions of the Annual Meeting.